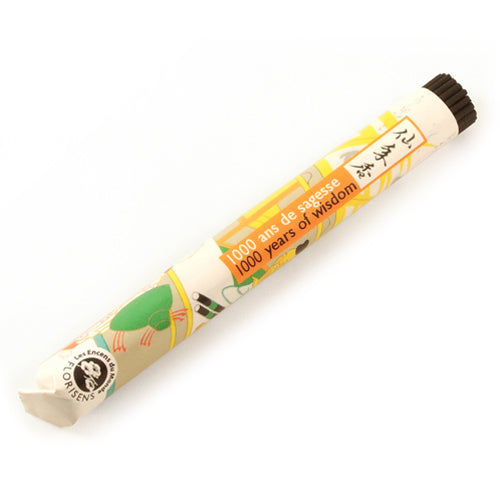 1000 Years of Wisdom Eucalyptus Incense Sticks
£ 6.00
This incense draws from 1000 years of knowledge to create an herbal 'elixir for long life'. Made with a special combination of essential oils, aromatic woods, soothing eucalyptus, cinnamon, clove, patchouli, and healing vetiver.

Japanese Incense: In the year 538 CE, Japanese incense came to Japan from China along with Buddhism. From that point on, incense would become an important facet of Japanese culture. The use and tradition of Japanese incense has evolved over fifteen centuries from it's humble beginnings, to the refined and sensitive art that it is today. Appreciation of incense peaked with the refined world of the Incense Ceremony, called Kodo (the "way of incense'). Kodo is considered one of the three classical Japanese arts of refinement, along with Tea Ceremony and flower arrangement.
MATERIALS
Natural incense
FEATURES
40 sticks of incense / 30 mins per stick
DIMENSIONS
14 x 1.5 x 1.5 cm, 13.5 cm sticks
ORIGIN
Japan
DELIVERY
All orders are dispatched within 24 hours of purchase. Worldwide shipping is available.
RETURNS
If for any reason you're not happy with your order, feel free to return your item to us for a full refund within 28 day's of purchase. See our
Delivery & Returns
page for full details.
Our prices include tax and duties to Europe if the total order value is below 150 Euros (you won't be charged any additional taxes or duties when you receieve your shipment). Please note: orders above 150 Euros may incur additional taxes and duties at import. Please see our
Delivery & Returns
page for full details.




Worldwide shipping available



Need help - contact us